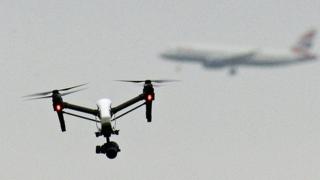 Two men have been arrested at Heathrow as climate change protesters tried to launch drones within the airport's exclusion zone.
Heathrow Pause said it intended to fly drones in the 5km exclusion zone around the airport on Friday morning.
Meanwhile, the airport confirmed flights are not being affected.
The Met Police said it was confident disruption would be kept to a minimum and a dispersal order has been put in place at the airport.
The two men were arrested on suspicion of conspiracy to commit a public nuisance the force said.
A large police presence has been seen around the airport, where the dispersal order will be in place until 04:30 on Sunday.
Deputy Assistant Commissioner Laurence Taylor said: "We are really clear that [flying drones] is unlawful, it is a criminal offence, and anybody who turns up expecting to fly drones in that exclusion zone will be arrested."
The Met made seven pre-emptive arrests on Thursday, when officers caught suspected would-be drone pilots, including Extinction Rebellion co-founder, Roger Hallam, ahead of the planned action.
Heathrow Pause is a splinter group of the wider Extinction Rebellion movement, although it operates independently from it and opposes the expansion of Heathrow.
A live Twitter stream apparently launched by protesters at Heathrow suggested two people had been struggling to get a drone off the ground.
Heathrow Pause claimed the airport were using "signal jamming to frustrate" early drone flights.
Expansion 'illogical'
One protester at the airport, James Brown, travelled from Exeter to get involved in the action.
Mr Brown, a 54-year-old former GB and Ireland paralympian, said: "It's largely a protest against the fact our government declared a climate emergency in April and straight after approved a third runway for Heathrow. There's no logic to that.
"Any disruption that might be caused to travellers is nothing compared to the imminent climate breakdown we are facing.
"We are running out of time to sort this out."
Mr Brown, who is registered blind, simply held the drone above his head inside the exclusion zone and said he would be handing himself to police for arrest.
Heathrow Airport confirmed its runways were open adding it was committed to addressing climate change.
But added this was best tackled through "constructive engagement and working together to address the issue".